Monopoint and Multipoint Canopies
1. Are your MONOPOINT and MULTIPOINT UL listed?
Yes, they are UL and CUL listed for both United States and Canada.
2. What fixtures can I use with the WAC Lighting MONOPOINTS and MULTIPOINTS?
All of our QUICK CONNECT™ pendants and track fixtures will work on the MONOPOINTS and MULTIPOINTS.
3. Is a QUICK CONNECT™ adapter needed with the MONOPOINTS or MULTIPOINTS?
QUICK CONNECT™ elements mount directly to the MONOPOINTS or MULTIPOINTS.
A separate adapter is not needed.
4. What is the maximum wattage for a MONOPOINT or MULTIPOINT?
50 watts per fixture.
5. Do any of your MONOPOINTS or MULTIPOINTS allow the use of a remote transformer?
Our QMP-1RN-TR, QMP-1SQ-TR and QMP-MI-TR MONOPOINTS allow the use of a remote low voltage transformer. The MULTIPOINTS all have integral electronic low voltage transformers.
6. Can I dim the MONOPOINT and MULTIPOINTS?
Yes. We recommend an electronic low voltage dimmer. Where a remote transformer is used, dimming can be accomplished by utilizing a dimmer to match transformer type
(e.g. low voltage magnetic dimmer with a magnetic transformer).
7. Can the MONOPOINT and MULTIPOINTS be wall mounted or used on a sloped ceiling?
They are designed for flat ceiling use only.
8. Does the QMP-MI-TR need a junction box? If it doesn't go on a junction box, how does it mount to a ceiling or surface?
It does not need a standard junction box. It comes with a wiring compartment that is attached with screws to the ceiling surface. The wiring compartment has a standard size knockout on top and is 3" in height. (See diagram).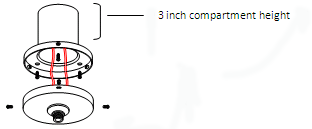 9. I am using a multi-point unit with some glass pendants in my kitchen. Can the pendant socket sets be field-shortened?
Yes. Socket sets are supplied in 6-foot lengths and may be cut to a desired length. Follow the detailed instructions supplied with the socket.
10. One of the pendant fixtures on my 3 lights Multipoint does not light, should I try it in another QUICK CONNECT™ fitting?
No. Doing that can harm the other transformers. Remove the defective fixture immediately. Take one of the operating units and install it in the inoperative location. If it works there then the problem is in the fixture, and will most likely be caused by a faulty splice connection. Review the splice according to the instructions furnished. If the working pendant does not operate in that location then the transformer in that location may have shorted out due to the previous fixture. Using a QP Tester (Part #: QP-TESTER) can confirm whether or not the pendant is properly spliced. You can contact your distributor for a replacement or call our Lighting Specialists at 800.526.2588 for assistance.
11. How are MONOPOINT and MULTIPOINT CANOPIES sustainable?
MONOPOINT and MULTIPOINT CANOPIES have a Five-Year Warranty and are responsibly produced in the WAC's clean, zero landfill manufacturing campus.