Mustard's Burger Shop in Santo Domingo, Dominican Republic
Located on one of the most popular corners in Santo Domingo, Mustard's is a delicious and visually entertaining restaurant targeting university students, moviegoers, teenagers and families.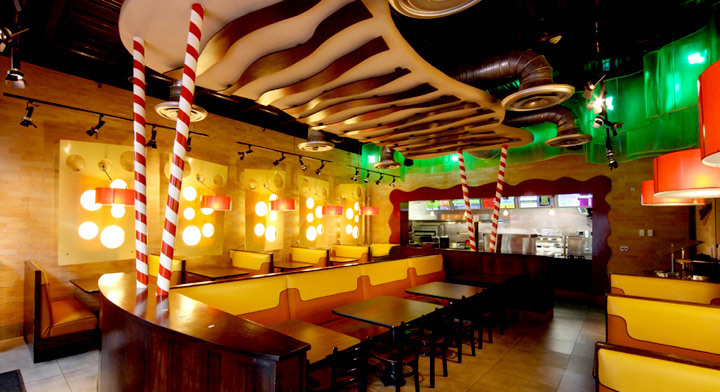 To meet the particular budget and schedule constraints on this project, the designer asked WAC Lighting to provide a low cost well constructed commercial option. WAC possessed the inventory levels and ability to ship the lighting equipment very quickly to meet their tight deadlines while remaining within budget.

Mustard's design team requested a flexible solution for a functional lighting plan that could be easily modified. The architectural design firm selected the WAC basic track lighting solution because of its superior quality, versatility and performance for a high value at a low cost. Additionally, they specified barn door accessories to deliver direct illumination with precision beam placement reducing glare throughout this novel restaurant.

To highlight the whimsical decorative fixtures and elements within the restaurant, which reflect the different ingredients of a Hamburger, the architect specified the WAC 120V track with over 50 line voltage track luminaires. Each luminaire includes versatile PAR lamp holders with sliding sockets to accommodate the various light source positions and display applications.

The luminaires were designed to work with standard dimmers and create a variety of different moods and special effects within the restaurant.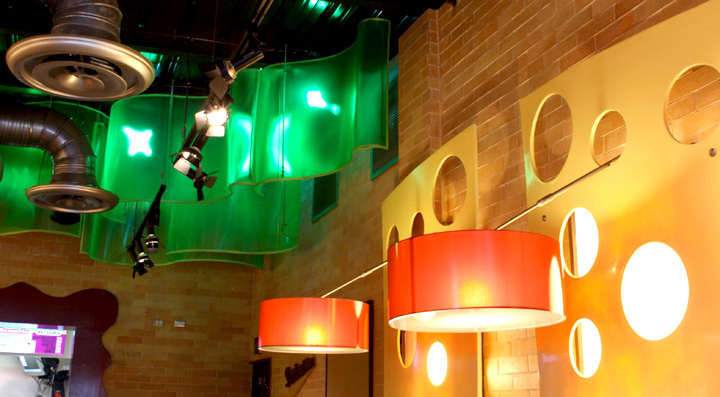 Using adjustable four-sided barn doors, the luminaires spotlighted tabletops and ceiling accents; making the design elements come alive with color while reducing discomfort from glare. In addition, the track luminaires dramatically accent the textured wall covering and red and white striped straws.

"The high quality WAC tracks and fixtures offer highly effective accent lighting on the many vibrant colorful features throughout the restaurant," explained Luis Jose Jacobo R., Principal for Spectro Lighting. "Mustard's is very popular and always full with happy customers."

"WAC provided cost-effective lighting solutions with tremendous value and quality, backed by great service and shipping turnaround for this project," concluded Mr. Jacobo R.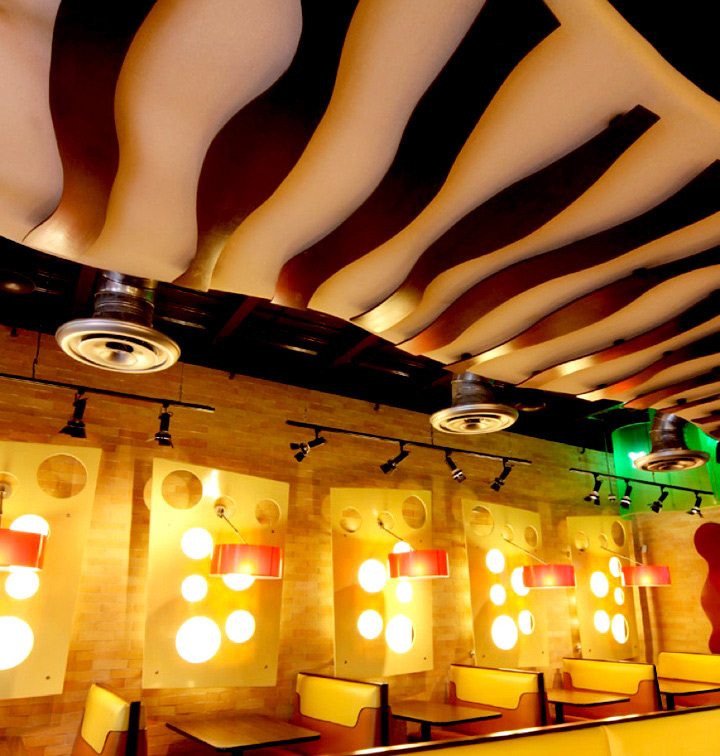 Click below to see WAC products used in this application: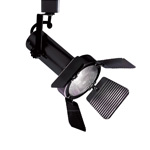 120V Line Voltage
Track Luminaire
Model: HTK-188

( Shown with optional
barn door )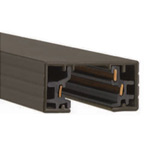 120V Track System
Model: HT8

Project
Mustard's Restaurant
Lorenzo Despradel
Santo Domingo, Dominican Republic
Owner: Bona S.A.
Website: www.bona.com.do

Lighting Designer, Consultant and Distributor:
Spectro Lighting
Santo Domingo, República Dominicana

Architects / Interior Designers:
Clara More and Mariluz Wiese - More & Wiese Architects
Website: www.more-wiese.com

Photographer:
Francisco Manosalvas

**A special thanks to… Luis José Jacobo R.