WAC Lighting Named Best of Year 2012 Honoree by Interior Design Magazine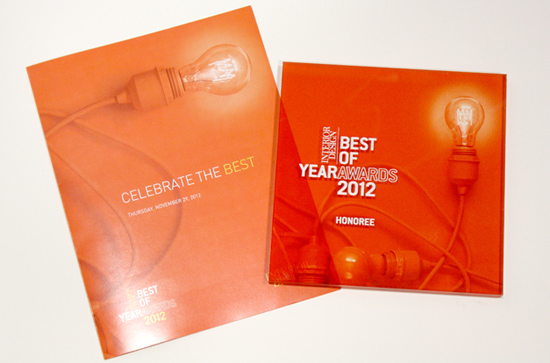 Port Washington, New York---Adding to its long list of honors and awards, WAC Lighting was named "Best of Year (BoY) 2012 Honoree" by Interior Design magazine for its Vela Organic LED Chandelier. The firm was recognized on Thursday, November 29, 2012, when over 800 people from the design community gathered at the state of the art auditorium and event space at 200 West Street in New York City, to celebrate the best projects and products of 2012.
The 7th Annual BoY Awards is the preeminent design competition recognizing superior interior design products and projects, highlighting the pinnacle of achievement that garners the attention of specifiers. The auditorium was standing room only, as the winners were announced live by hosts Cindy Allen, Interior Design Magazine Editor in Chief, and Mark Strauss, Interior Design Magazine President and Publisher. Interior designers and architects generated 86,000 votes online from October 1st through October 9th, from 660 submissions and selected Best of Year finalists. A jury of leading architects and designers determined the winners.
WAC Lighting's Vela Organic LED chandelier was created with a symbiosis of eco-friendly nanotechnology and modern aesthetics that simply inspires. The luminaire is defined by a dramatic contemporary profile laser-crafted of aluminum, with 12 OLED panels that illuminate surfaces below, and 12 additional OLEDs that shine upward to render a soft ambiance that evokes a lighter sense of space and visual comfort.
Showcasing a unique light source from an ultra-thin aesthetic design, the Vela chandelier uses just 45 watts of power. Inherently sustainable and precisely engineered, Vela is individually crafted with the world's most revolutionary light source in WAC's wholly owned, zero landfill manufacturing campus. With instant on/off and dimming capabilities, the Vela chandelier delivers mercury free and even light distribution without glare.
WAC Lighting is a leading global manufacturer and innovative designer of lighting for Luxury Residential, Commercial, Hospitality, Institutional, Retail and Architectural applications, specializing in track, recessed, under cabinet, monorail and decorative lighting. The firm's Headquarters and Factory is located in Port Washington, New York with a Factory in Ontario, California. WAC may be reached at 1.800.526.2588 or by visiting www.waclighting.com.